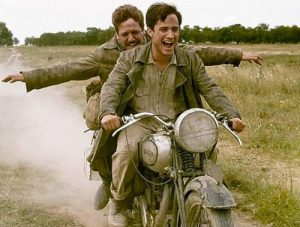 [Updated post and tab: May 2017]
The Motorcycle Diaries
The Motorcycle Diaries is considered to be one of Gustavo Santaolalla's greatest film scores.
Film synopsis (edited from the official Focus Features site):
The Motorcycle Diaries, depicts the rich, complex human and social landscape of early 1950's South America. The Latin American continent is unveiled in all its glory as two friends experience life at its fullest. The film, directed by Walter Salles, is adapted from the journals of two real-life Argentines, Alberto Granado and Ernesto Guevara de la Serna, the latter of whom would become "Che" Guevara.
In January 1952, Ernesto (played by Gael García Bernal) is a 23-year-old medical student specializing in leprology. Alberto (Rodrigo de la Serna), age 29, is a biochemist. The two men bid goodbye to their families and flushed with a romantic sense of adventure, they pile onto Alberto's 1939 Norton 500 motorcycle. The aging bike carries them farther and farther away from familiar and comfortable Buenos Aires surroundings, to surprising and exciting destinations. The two friends become as close as brothers.
Over the course of eight months and 8,000 miles, what starts out as a lark becomes a profound journey of discovery, not only of themselves but of a continent filled with infinite sorrow, and infinite hope. From homeless miners to riverboat prostitutes, from lepers to prosperous gentry, Ernesto and Alberto discover an affinity for humanity within themselves, and a determination to change the world.
###
I prefer to see The Motorcycle Diaries almost like (a Latin American) version of Jack Kerouac's On the Road. It's a coming of age story as two young men venture into their broader landscape and culture, making their own judgments away from the comforts of home. Actually, it's better than On the Road.
The score, by Gustavo Santaolalla, might be his greatest work of art next to Brokeback Mountain. If you enjoyed this, please listen to my arrangement of Santaolalla's Apertura, also from The Motorcycle Diaries soundtrack.
Gear Used
I used my cheap Alvarez AC-65 for Leyendo en el Hospital. I keep this guitar strung with Savarez Yellow Card strings for songs with low, alternate tunings. The strings are super high tension so the guitar still performs normally.
My camera is a Zoom Q8 with a Stereo Shotgun Microphone.
You can find all of my gear here.
How to play Leyendo en el Hospital by Gustavo Santaolalla
Leyendo en el Hospital is one of my favorite guitar pieces from Gustavo Santaolalla's The Motorcycle Diaries score. The guitar sound is deep, round, and drenched in reverb -- but still totally raw. This is one of the songs that spun me out on Gustavo Santaolalla -- and I instantly became an obsessive superfan.
With Leyendo en el Hospital, Santaolalla uses his now signature two-note interval. Although the chord shapes are very easy to play, you'll have to be very agile to play this song.
The good news is, agility is had by barely touching the strings, and playing as lightly as possible. Don't force anything and let the guitar do all the work.
The guitar tab for Leyendo en el Hospital is three pages long and played straight through. The strummed sections use an open hand strum. You can see the technique in 0:53 of the video. Pretend that you're flicking water at someone with your strumming hand. The giant X indicates that the strings are muted with your fingering hand.
Leyendo en El Hospital is perfectly fine for beginner guitarists to play. Enjoy, the guitar tab is available below:
Related