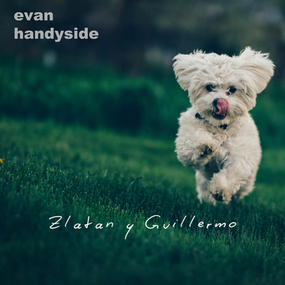 Zlatan y Guillermo
"Dogs are our link to paradise. They don't know evil or jealousy or discontent. To sit with a dog on a hillside on a glorious afternoon is to be back in Eden, where doing nothing was not boring–it was peace."
― Milan Kundera
Free audio download on SoundCloud. This piece is available on all streaming services (links below).
My friend Guillermo is a Mexican director and producer. We've worked together on a couple of short-film projects. Guillermo's constant companion was his dog, Zlatan. After 14 beautiful years, Zlatan has passed away, and Guillermo reached out to me to write a song that would embody their life together. (He intends to create a micro-documentary about Zlatan.)
I can sympathize. I have a deep love for my dog, Luna. She's a highly intelligent and extraordinarily well-behaved Cavapoo. My favorite thing is to shut out the world and take her on walks. She's so happy to be with me all the time, and loves car rides to literally anywhere.
This song is about the innocence of dogs, the human connection to dogs, and our inconsolable grief when they pass. It's called 'Zlatan y Guillermo'.
You might also like to play…
Wake Me Up When September Ends | fingerstyle guitar + TAB
Gustavo Santaolalla: Morning (August: Osage County) + TAB
Dustin O'Halloran: We Move Lightly | fingerstyle guitar + TAB
Gear used
My guitar for this piece is a Cordoba GK Studio. You can find a current list of my gear here.
Spotify and streaming
You can find Zlatan y Guillermo on Spotify, Apple, Amazon Music, and all streaming services:
How to play Zlatan y Guillermo | fingerstyle guitar
The guitar tab for this piece is beautifully written across 2 pages. It's relatively easy to play too. Enjoy, the guitar tab is available below:
This song is one long passage played twice. You'll repeat pages 1 and 2.
**Zlatan y Guillermo – Evan Handyside (ambient, fingerstyle guitar)
This piece is played in standard tuning.