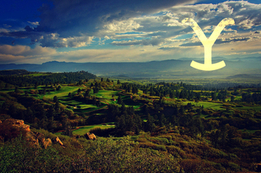 Yellowstone
Free audio download of this performance on SoundCloud.
Yellowstone is a Paramount TV series written and directed by Taylor Sheridan (Sicario, Hell or High Water, Wind River). Kevin Costner plays John Dutton, a father trying to protect his ranch, the largest in the United States, from land developers, and a neighboring Indian reservation.
Taylor Sheridan is one of those writer/directors where I'm frequently checking his IMDb page. I can't get enough of his characters and backdrops.
I really love this opening theme and sequence. The music by composer, Brian Tyler, has a slight Spanish characteristic to it -- so I knew the chord progression would easily work on guitar. The music dips into some dissonant sounding chord shapes that I thought were very compelling. I'm excited to borrow those ideas for my own music.
You can find more pieces like this in my 2 Minute Classical Guitar Archive.
You might also like to play...
1883 Theme | fingerstyle guitar + TAB
Braveheart: A Gift of Thistle | fingerstyle guitar + TAB
Gladiator: Now We Are Free | fingerstyle guitar + TAB
Gear Used
For this piece, I used my Cordoba GK Studio guitar. It's a crystal clear and beautiful sounding guitar. You can find a list of my current gear here.
Spotify and streaming
You can find my personal music on Spotify, Apple, Amazon Music, and all streaming services:
The Intellimusica Spotify Playlist: Ethereal & Cinematic Music
(This is music that I've played and intend to play on Intellimusica. It flows beautifully — and additionally works as music for focus, meditation, and relaxation.)
How to play the Yellowstone theme for guitar
(Resources: learn more about Premium Memberships here. Get my weekly posts right to your inbox.)
The guitar tab for Yellowstone is beautifully written across two pages. Although there's some Gustavo Santaolalla-esque trills in my arrangement -- the piece is under two minutes -- making it doable for beginner guitarists. However, I do recommend it for intermediate guitar players and up. Enjoy, the guitar tab is available below:
Related