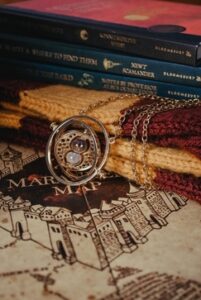 Fantastic Beasts
The Fantastic Beasts movies -- as with the Harry Potter predecessors -- seem to be set in winter more often then not. For that reason, I think of the films, and the music by James Newton Howard, as seasonal. To me, it only feels right to play this music around winter. My favorite piece from the franchise is, A Close Friend. I view it as the central theme.
I love composer James Newton Howard. His scores from M. Night Shyamalan's early films -- Signs and The Village -- are some of then best ever created.
You might also like to play...
Harry in Winter | fingerstyle guitar + TAB
Lily's Theme | fingerstyle guitar + TAB
Hedwigs Theme | fingerstyle guitar + TAB
Gear Used
For this piece, I used my Cordoba Gk Studio guitar. It's a crystal clear and beautiful sounding guitar. You can find a list of my current gear here.
My music
You can find my personal music on Spotify, Apple, and all streaming services:
The Intellimusica Spotify Playlist: Ethereal & Cinematic Guitar
Deep cuts from artists like Gustavo Santaolalla, Hans Zimmer, Jeff Buckley, and Radiohead - combine to create a heady flow of music for focus, meditation, and self-reflection. This is a Guitar focused (but not exclusive) playlist that elicits the emotional, captivating quality of modern film scores.
See also: Cinematic Guitar and Ethereal Christmas (also created by me).
How to play Newt Says Goodbye | fingerstyle guitar
(Resources: learn more about Premium Memberships here. Get my weekly posts right to your inbox.)
The guitar tab for A Close Friend is beautifully written across three pages. I recommend it for beginner guitar players as it's  really easy to play. Enjoy! The guitar tab is available below:
Related