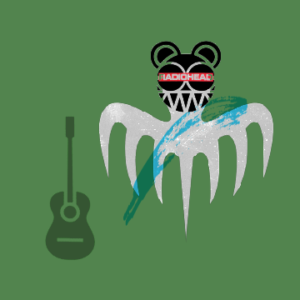 Spectre
Free audio download on SoundCloud.
This song was commissioned for the 2015 Craig-era James Bond film, Spectre. The song was rejected by the film producers, and Radiohead released it as a B-side to the 2016 single 'Burn the Witch'.
Initially, Radiohead had offered Man of War, a song written in the 90's during The Bends sessions. The song was later retooled for OK Computer, but it never made the cut for the initial release. As the story goes, Bond producers liked Man of War but scrapped it after realizing it was pre-recorded. [Pre-recorded material has implications for the Academy Awards. Jonny Greenwood's score for There Will Be Blood was nixed from contention due to previously recorded material.]
Thom Yorke has described Man of War as an ode to all Bond themes.
Radiohead went back to the drawing board with producer Nigel Godrich. They halted production (on their 2016 album, A Moon Shaped Pool) to write and record, Spectre -- one of the greatest Radiohead songs ever. Inexplicably, the film's producers rejected that song as well.
Instead, Sam Smith's Writing's on the Wall was used for the opening credits of SPECTRE. It's a fine tune, but I can't help but think that Radiohead's theme would've lent some cache to a film that desperately need it. Here's the opening sequence cut with the Radiohead version. It's awesome.
You might also like to play...
Radiohead: Everything in it's Right Place | fingerstyle guitar + TAB
No Time to Die | fingerstyle guitar + TAB
Radiohead: Codex | fingerstyle guitar + TAB
Gear used
This is a beautiful guitar that I borrowed from a friend. It's a Taylor Builder's Edition K14ce purchased from Empire Music here in Pittsburgh.  (Not an affiliate link. Those guys are just my buddies.) You can find a current list of my gear here.
My music
You can find my personal music on Spotify, Apple, and all streaming services:
The Intellimusica Spotify Playlist: Ethereal & Cinematic Guitar
How to play Spectre | fingerstyle guitar
(Resources: learn more about Premium Memberships here. Get my weekly posts right to your inbox.)
The guitar tab for this piece is beautifully written across 3 pages. Spectre is better suited to intermediate guitar players and up. Happy playing! The guitar tab is available below:
Related