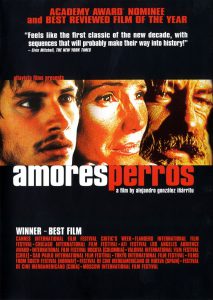 Amores Perros
Directed by Alejandro González Iñárritu, Amores Perros (2001) is an ambitious story of lives that collide in a Mexico City car crash. Inventively structured as overlapping and intersecting narratives.
Gustavo Santaolalla initially said no to this project, because he was too busy producing records. In addition this was Alejandro González Iñárritu's first feature film. However, after declining the project, Santaolalla woke up in the middle of the night thinking, what if this guy is a genius?
The rest is history. After creating the score for Amores Perros, Alejandro González Iñárritu introduced Gustavo Santaolalla to director Walter Salles -- who was beginning work on The Motorcycle Diaries.
It's possible that Gustavo Santaolalla's entire two-time Academy Award winning film score career can be traced back to that very moment, in the middle of the night.
Here's a great podcast with Gustavo Santaolalla where he details his life and film score career.
You can find all of my Gustavo Santaolalla arrangements here.
Gear Used
For Amores Perros, I used my modified Eric Clapton Strat. I replaced the pickups with MojoTone 58 Quiet Coil noiseless pickups.  [I prefer a Strat, and noiseless pickups for recording.]
My amp is a Vox AC10, and I used a BOSS Tremolo pedal. You can find all of my current gear here.
How to play Amores Perros by Gustavo Santaolalla
(Note: This is my premium material. Click here to be updated on all of my latest guitar tabs.)
I've played the guitar themes of Amores Perros in order of appearance from the score:
Amores Perros (Instrumental)
Memorias (Instrumental)
Quiebre, Fuego Y Revelacion (Instrumental)
This collection of themes is perfect for beginner guitar players. Gustavo Santaolalla's signature move is using two-note intervals that allow for a sophisticated musical tapestry, but are very easy to play.
This will sound great on an acoustic guitar as well. Tema Amores Perros + Atacama is  the acoustic variant.
The guitar tab for Amores Perros is 3 pages long and played straight through from start to finish. Enjoy, the guitar tab is available below:
Related