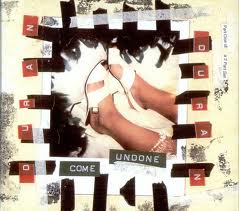 Come Undone
Duran Duran are an English rock band formed in Birmingham in 1980. The group were one of the most successful bands of the 1980s, with a string of hit singles including "Hungry Like the Wolf", "Rio", and "The Reflex".
One of Duran Duran's most popular songs is "Come Undone", which was released on their 1993 album Duran Duran (The Wedding Album).
How to play Come Undone | fingerstyle guitar
(Resources: learn more about Premium Memberships here. Get my weekly posts right to your inbox.)
Once I found the capo position for Come Undone, this arrangement of Duran Duran's 1993 hit, glided into reality within a matter of 10 minutes.
An interesting aspect of transcribing pop songs to solo guitar, is the illumination of the song's underpinnings.  It's like dissecting an organism, and looking at how each part works in synchronicity to create the living, functioning whole.
Having played in a rock band most of my life, I can tell you its not scientific.  It's four guys standing around saying, do that riff again, and while you do that, I'll sing this, then we'll go in to the next part, etc....
Even Duran Duran may not be aware of the totality of their genius, but when you look at my version of Come Undone -- you'll get a sense of the song's Beatlesque sophistication.
It's pretty easy to play as there's no difficult chord positions.
Enjoy, the tab is available below:
Related